There are essentially two models of history curriculum design: chronological and categorical. For the sake of ensuring everyone is on the same page we will define these two terms quickly. Curriculum design that is done chronologically is the typical method as events, people, and dates occur in the order in which they happened. Curriculum that is categorical is broken up according to major themes (government, human rights, etc.). Both have positives and negatives as any curriculum does yet I have never heard any discussion take place as to which is more effective at teaching kids history. It often results in an "I prefer this" or "I prefer that" discussion that focuses on how the teacher thinks rather than the student learns.
The implications of this information are crucial to history teachers throughout the country. Given that we spend time discussing important issues in US history, it would be nice to have data-driven proof as to what the best way to go about providing the information is. I would hypothesize that most districts (including mine) have curriculum set up in the traditional framework (chronological).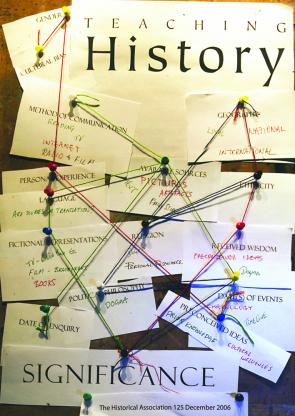 Consider this when you are teaching the Constitution next year. The one unit that I teach that I would label as "categorical" is the Constitution. I go back to ancient Greece and Rome to discuss influences on the belief systems of the founding fathers that influenced the major documents in United States history. Then we go through an evolution of the Constitution including discussion of major Supreme Court cases and the importance of each of the amendments. I also revisit these amendments when I get to their point in the traditional curriculum. It would be impossible to teach the Civil War and Reconstruction without discussing the 13th, 14th, and 15th amendments. I find that this leaves students with a greater understanding of the importance of the Constitution and how it influences their daily lives.
My point is this: we need to find out the best way to present history to kids on a macro (curriculum) as well as micro (instruction) level. The faster we come up with this information, the easier the time we will all have in engaging kids and providing them with the means of instruction that best fits THEM.
-----

This Post written by Aaron Eyler
for more information about Aaron, visit his "21st Century Education" blog at http://stretchourminds.blogspot.com/